I got a new Maverick ET-732 yesterday. I am going to use it on my OTG and WSM. I did not want to run the probe wires through the lid. I took some ideas I've seen here, and on other forums, and came up with a plan.
I cut a 3/4" long piece of 1/4" of electrical running thread (mainly used for lighting fixtures). It's 1/4" ID, and 1/2" OD. I got 2 locknuts and one pipe cap (plumbing) for it.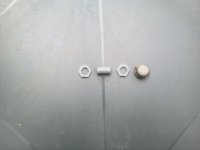 On my 18 1/2" WSM, I drilled a 1/2" hole, centered between the grate supports, and one inch below the top grate, and mounted the nipple.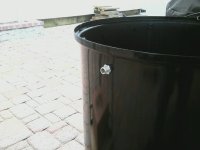 The probe wires fit through it great.
If I don't want to use the thermometer, I can just put the pipe cap on the outside of the nipple, sealing it.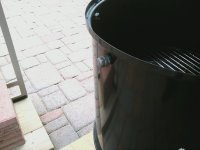 I did the same thing to my 22 1/2" OTG.
With the probe wires in place, I plan on sealing the nipples with a little piece of aluminum foil.
I tested my new ET-732 on some hot and cold water, and all seems working good. I am going to use my new ET-732, and my new custom grommets, for the first time tomorrow, on a spares cook (barbeque probe only).
It looks good to go!
Bob
Last edited by a moderator: