Thought that I would put up one of my more recent and interesting cooks. A buddy of mine decided to do an alligator and asked if I could smoke it... Neither of us have ever done a gator before, but it was by far one of "funnest" cooks in recent history.
The meat:
12 lbs gator - brined and rubbed with 50/50 Meat Church "The Gospel" and Kosmos "Cow Cover", tail was stuffed
4 lbs chicken - brined and ubbed with BGE Savory Pecan
Stuffing was a rice, jalapeno, bell pepper, onion, sausage and crawfish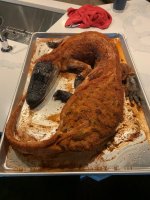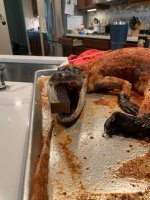 The cook:
Grill was 230 the entire way with pecan wood. Gator took about 5.5 hours to get to 163 and the bird took a little under 3 hours. Rested everything for about 45 minutes.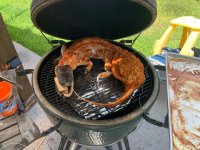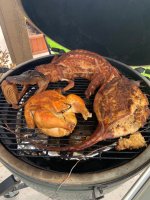 The results:
First this was really for the kids... and the dads, lets not kid ourselves here. Both meats were outstanding with good smoke and the rubs added to the flavor. Gator ate like chicken, not fishy at all... De-boned the gator and chicken to create sandwiches, added some of the stuffing to the sandwich as well and topped with Kosmos bbq sauce. All in all, fun cook, fun presentation and good eats.