I fired up the the 22" WSM for the first time in a while on Sunday. Got started early, lit coals about 6 AM, and ran pretty hot with lots of KF original and pecan chunks on the bottom. No water pan... used the fire dial instead. Achieved 325 to 350 F with the top vents all the way open and lid cracked with a small stainless meat skewer. Chuck was seasoned with Cattleman's Tri-Tip that I ground up fine in my spice grinder. Pork was seasoned with my home made SPG blend. I started mopping after about 1 hour, and about every hour after that using some bbq sauce thinned with H20 (a good way to use up the last bit of BBQ sauce in the bottle). Chuck was at about 195 after 6 hours, and the pork shoulder was taken off about 2 pm. I wrapped super tight in HD Aluminum foil, and held them in a 170 Oven... more comments and photos below.
Here we are bright and squirelly a little after 5:30 AM... wanted to make sure I was done before the game and not rushing anything Meat was seasoned the night before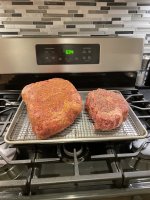 Here's the meat on the smoker after about 3 hours. The mop had enough sugar in it to help the bark start forming. You can see that stainless steel skewer behind the chuck roast. That little guy kept the 22" WSM lid cracked which will allow the 22" to reach temperatures > 275F. My WSM has aftermarket gaskets on the doors and lid, so it's pretty tight and won't run more than 275F with the lid fully seated and all vents open. With the lid cracked, it ran 325 to 350 until it started to run low on fuel. The temp did spike up to around 365 a couple of times, and I had no trouble knocking the temperature back by closing the bottom vents.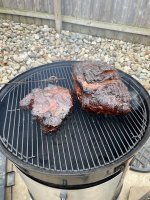 Here's the pork shoulder before I wrapped it up tight with a little bit of that mop sauce and an extra tablespoon of water and put it in that 170F oven to hold it at that low temp for a few more hours before pulling. This was some of the barkiest pulled pork and beef I've ever made.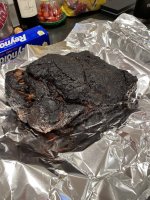 Here's what the chuck looked like when we started shredding. I'm giving it a 4 out of 5.. the seasoning was good, and the bark was really well set. If I had it to do over, I'd probably put a full 1/3 cup of beef broth in the foil pack because it was just a smidge on the dry side. The pork also turned out pretty well.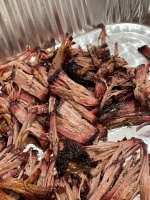 We served this up with some scratch made pinto beans, rice and guac for burrito bowls to eat during the game. Everyone was happy with the results, and the CHIEFS won!!! Might have to make this again for the Superbowl!
Thanks for lookin' Hope everyone's having a good week