Cold as a mother in laws heart this morning but, by early afternoon it cleared off and, though still cool it was perfect to break the roti out and do a chicken for tonight and a few later in the week projects. Went back to more old school trussing and I'm very pleased with the presentation!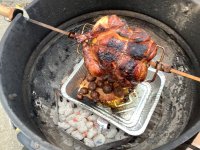 Single piece of twine, properly done at the leg and looped around the wings. I just have not been paying real attention lately, this is making me feel
like I'm being more interested in what I'm doing. Something has just been "off" in my Interest for a few weeks.
Purple "Bistro" potatoes underneath, not done that in a long time for no reason aside from sheer lack of thought.