So, my brother is in town visiting, and, while he's a grilling/smoking afficianado, he has never had smoked short ribs. Knowing he was coming to town, I took advantage of Creekstone's recent sale on prime short ribs (with my KCBS discount added on) to treat him to something good. The cook was boringly the same as previous ones I've done..... ribs trimmed of fat/silverskin, rubbed overnight with Dizzy Pig Red Eye Express, then smoked at 230 for 10 hours (wrapped for the last three.) Man, these things are just awesome, easy to cook up, etc, etc!
After an hour or two.....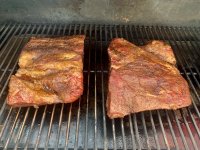 Off the grill, ready for a cooler/towel nap......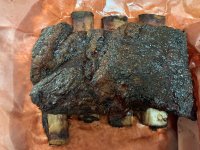 Sliced for service.....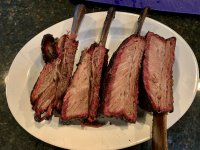 We plated this up with roasted cauliflower, and some black beans (per the recipe I made last week with my Instant Pot.) Delicious!
I still need to track down some plate ribs, but, damn, these really hit the spot! Tender, beefy, and coma inducing!
R