We broke down and bought the gas attachment for our pizza oven.
What a game changer!!
Using charcoal, it took about an hour and a half to get to 800*. With this, it heats up in about a half hour! And there's a tray to put a piece of wood for smoke flavor.
The only drawback is I had to get another tote just to store the burner in! Small price to pay for the convenience!
My pizza, pepperoni, Italian sausage, sliced tomato and mozzarella. Cooked in about 90 seconds!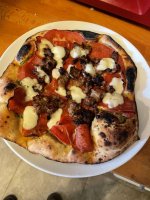 Pammi's had garden fresh pesto, sliced tomato and mozzarella. Fresh basil on it after the 90 second cook.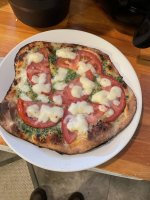 A a nicely browned bottom!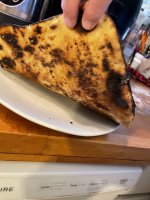 This is gonna be great for when my family comes in July!!