I read an article on using the WSM to bake or make pizza so I thought I would give it a try and make calzones and stromboni.
I made pizza dough and while it was rising I prepped the peppers, onions and steak for the cheesesteak. I hammered down some thin cut ribeyes and soaked them in a marinade of pineapple-habanero jelly (Texas Pepper Jelly), worcestershire sauce and soy sauce. I seared them on the Smokey Joe while the dough was rising.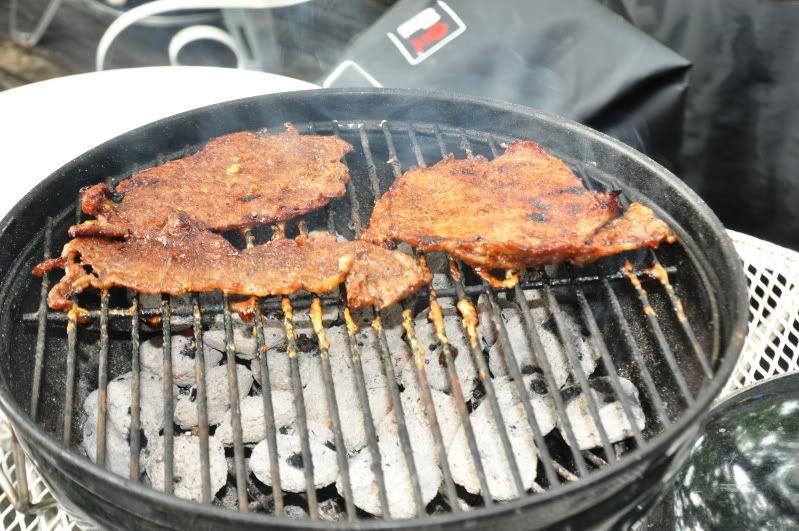 I set up the WSM as an oven by putting the charcoal rack directly on top of the lower grill rack. I put the grates 90 degrees to each other so the lump charcoal wouldn't fall through the grate.
I got the chimney going and dumped it on top of some oak lump along with the leftover charcoal that was in the Smokey Joe. I set the pizza stone on top of a rib rack so it would be up in the dome and put a heat shield under the stone to help circulate the heat.
I sliced up the ribeye, and layered it heavily with sauteed bell peppers and a purple onion. I rolled the pizza dough up around the cheesesteak to make Stromboli. It's a cheesesteak so you have to use cheese whiz.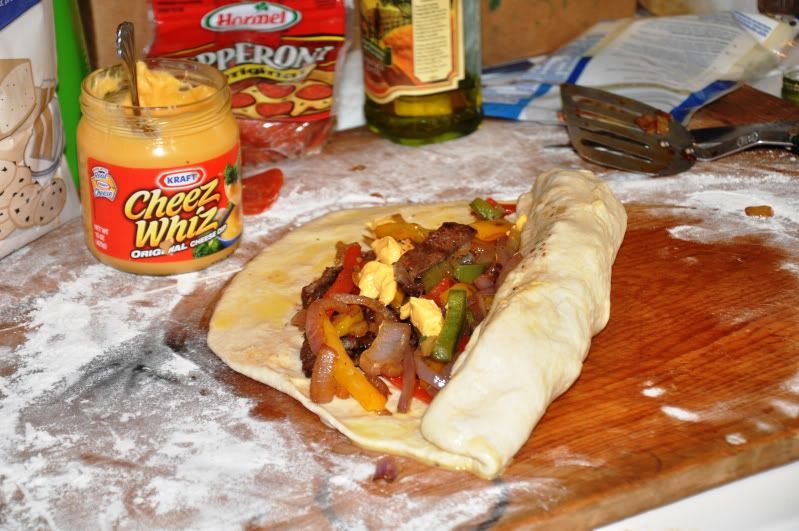 I 'baked' the stromboli in the WSM at 500 or so degrees for about thirty minutes. I stuck my temp probe into an onion and put it under the stone to try and get some idea of the temp. It ran between 490 and 520. I left the bottom vents open all the way for the first part of the cook, I wanted the WSM up to temperature quickly. I shut the bottom vents down halfway after a while and the temp settled out at 515 or so. It started to drop a little toward the end of the cook. I opened the door a bit and the temp jumped right back up. With more charcoal in the ring and the door cracked open, I bet you could run it up to 600 or so with no issues.
Here's the finished product. I made a calzone too but didn't take any pictures:
Have a great weekend.