We've never had an electric waffle maker. I've looked at antique cast iron ones but most are super expensive or would require a lot of restoration or both. The Appalachian Cast Iron Company has a new one out. So on a whim I picked one up. It arrived the other day. Today made our first batch.
It does take some time. Really need to warm the paddles up good. Then each waffle (on my stove) took 8 minutes. As the process went along I learned a few things so the next batch should be smoother. Number one tip is to really let the paddles warm up prior to using. Especially if you want crispy waffles.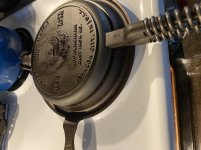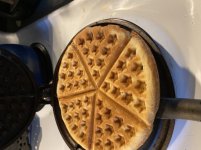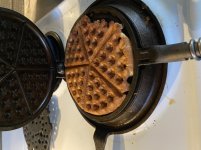 Sorry for the sideways photos it's the only way I can get them to insert from my phone.