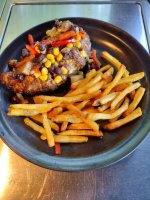 Honest self confession here. I love to cook (grill/smoke) and I will fix anything that is good and easy (minimum hassles) whether from scratch or from freezer or box, from recipe or -- not. This cook fits perfectly. Using @K Kruger 's jerk sauce, the Hasselback method for chicken, and from some recipes, I went off on my own. Frozen fries and a self invented salsa/slaw in what I hoped was a Jamaican mode, it all came together well.

Two large chicken breasts from Costco after marinating 4 hours in the jerk sauce.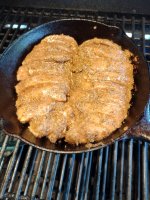 A "Rich" original Jamaican-style slaw (salsa?).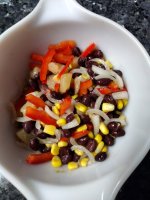 Chicken 30 minutes at 400* in 8" cast iron pan with a handful of fries below.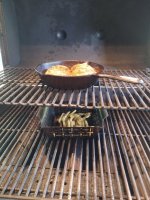 After adding the slaw on top with 10 minutes to go in the cook.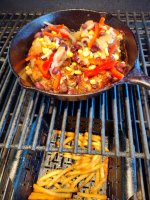 It ended up plated as above though I also added fresh slaw on the side. My simple slaw recipe to appear soon under Side Dishes.

The second breast was dinner the next evening with grilled Teriyaki cauliflower. (Failed to get that picture, but it looked just fine!)
Last edited: