Well, I grabbed a Free Genesis II E310 today. You say: "Yah, sure, and there had to be something wrong with it". And you would be correct. It had a fight with a 4000 lb automobile and lost. At least that is what I assume happened to it. From the add, it looked like it was mainly a bent lower frame and the cookbox and lid were unharmed. I figured at some point, I would come across a rehab special and need some parts so I grabbed it. Plus, I just wanted to get my hands on one to examine it a bit closer.
Jon T, this review is for you and anyone else that may be interested.
I believe this grill was one of the first years of the Genesis II design (2017). That is good since I was interested in how they would hold up against rust. I am assuming it was purchased in 2017 and after 3 years, I have to say that I found NO rust anywhere on it. I did notice some suspect areas but after a close inspection, I did not find rust. One place of particular interest was the bottom slats that have plastic end caps on them that snap into the frame. I pulled a few of those off the slats and there was no rust, however, there was moisture still in them as I had driving home with the grill in my pickup bed in a snow/rain storm for 3 hours last night. I want to say that it looks like Weber has done a good job rust proofing these new grills, but I hesitate for two reasons. First, the grill is only three years old and I don't know how the grill was sheltered between cooks. It may have been a garage queen as evidenced by the collision damage. Second, the grill didn't look like it has been used more than a half dozen times. I also want to comment that the grill seemed very sturdy overall and it didn't seem like weber skimped on metal thickness. I wonder what the car looks like. hahaha
While it is a parts grill and I did salvage several of the frame parts, the lid, cookbox and manifold. Two of the valve stems on the manifold were slightly bent. They still turn very smoothly but, I will have to check it for leaks if I every wind up using it on a grill. The previous owners snatched the wheels, the electronic igniter module, the knobs, the flavorizer bars and the cooking grates. They even grabbed the propane hose/regulator off of it.
I assume they either bought a new identical grill, or let someone else cannibalize it before they put it out on the curb for me. But, I did get the cook box, the lid, and the burners along with the frame parts. And like I said all in great condition and relatively clean.
So, on to the photos. I didn't take one before I took it all apart, but you can clearly see the fender bender on the right side.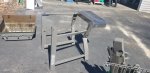 This is the bucket of parts that I salvaged. You can also see the cook box. I don't have a photo of the lid, but it was in good shape and is just plain black.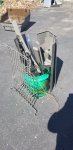 Here is the cook box it seems well built although I am pretty sure these are like the 2007 and up E series grills and are a little less thick aluminum than the older models.
You will notice that it looks pretty darn clean for three years of use. The burners are rectangular by the way. I am not sure if that is a better design or not. I don't see an advantage over the classic round ones.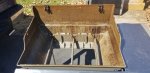 Here is a side view of the damaged legs. It was a pretty strong hit, but notice the two cross members. They both basically came out straight. That is what I mean by Weber seemingly using a little more substantial steel than what I expected they would.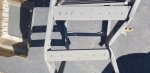 You can see below where the cross member basically got shoved back and through the leg. Like I said, the cross member basically didn't get damaged though.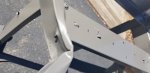 Anyone know what this wire rack was for? Where does it go. It was laying there with the grill and is in great condition except for the right front flange got bent up a bit.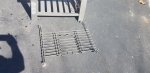 Ok, this is something I took note of. The valves now have this rubber boot on them instead of the gray silicone disks. It reminds me of a ball joint boot. I would consider it an improvement.