Administrator
Staff member
Update: I'm out of TVWBB BBQ & Grilling Team stickers at this time.
I'm thankful for all of our active posting members, so I want to bring back this offer to forum members
with a post count over 50
.
Choose up to three stickers from the ones shown below and I'll send them to you for free! Click my name next to this post, click "Start Conversation", and let me know your mailing address and which stickers you'd like to receive.
Best,
Chris
P.S. I will mail these to U.S. and Canada addresses!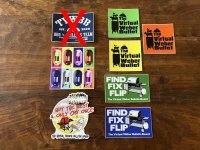 Last edited: