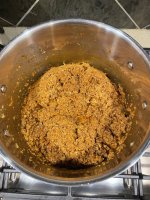 Eat The Freezer continues!
Ground beef, ground pork, carrots, celery, onion, garlic, tomato paste and EVOO (SP and Italian seasoning) cooking off till sautéed.
Next goes in the Italian sausages and crushed and purée Cento tomatoes.
Will be served with whatever pasta the pantry holds. More pics to follow!
Do you Ragu?