In several other discussions in the Forums, I've talked about what I do with leftover meats after a smoking session. I've got a 22.5" WSM, and in the interest of using the charcoal in the most efficient way possible, I pack the smoker to smoke as much as I can.
Once cooled, the meat (ribs/brisket/pulled pork) gets portioned out into FoodSaver bags and frozen for future use. Here's the last batch of brisket: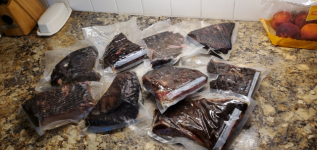 When it's time for a meal, it goes into a pot of water at 200ish degrees F until internal temp is back up to 150ish degrees F. I love this method because it seals in the original juices and then reheats them in those same juices.
My wife and I do a lot of camping. While just tent campers (haven't made the move up to the camper/RV yet), we do like to invest in items that make our camping experiences more enjoyable. One of the mainstays on our trips is our
Camp Chef Outdoor Oven
. I picked it up on a screaming Black Friday deal about 8 years ago, and we probably use it between 15-20 times a year. Here's what it looks like in use at a Drive-In Theater (I'm not sure what we were making. In the past we've done a make-your-own pizza night!):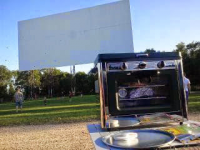 What I've found is that these pre-made and portioned meats are fantastic for camping. They go straight from the freezer to the cooler (which contributes to keeping everything else cold), and once the ice starts melting, they don't take on any water. We've made
Skillet Brisket and Biscuit Pot Pie
, pulled pork tacos and enchiladas, and other yummy items.
Last weekend, ended up camping at a music festival, and brought along a few packages of the ribs (3-4 bone sections). After heating them 80% through in the pot of water, I tossed them on a sheet of aluminum foil, threw on some BBQ sauce, and then put them in the oven until they were done and the sauce was sticky.
For the next half hour, we had visitors about every 4 minutes asking how we had somehow made smoked BBQ ribs at a campsite in the middle of a field. Apparently, residual smoke smell along with the sauce brought people over like I was the Pied Piper.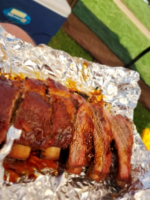 Did I mention that I also pulled off Deep Dish Pizza and Tacos using the same stove/oven the same weekend?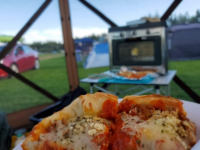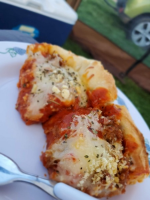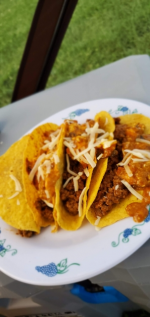 (Non-grill/smoker related... also have a portable grill/deep fryer combo that also has produced some fantastic food in places you wouldn't expect to see it!)