After some time on the driving range this morning (my game's a mess right now) I decided to get the car washed instead of going straight home, which meant I took a different route than I normally would. And as I was driving along, lo and behold I spotted this C-coded copper 22" BBK sitting at the end of a driveway. Fortunately someone was outside so I stopped and asked if I could come back and get it, and was given the OK. It definitely has some wear and the front leg socket needs to be welded, but it might be a candidate for restoration by the right person.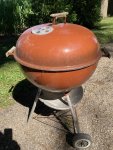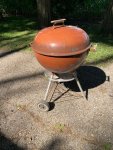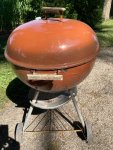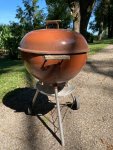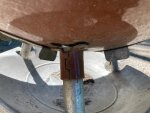 I don't think I'm that right person, though. I'm not a restorer and I'm not a collector, so I think I'll probably part with it eventually. I figure I have about $2 worth of gas and 15 miles of wear on the truck invested, so it'll probably be pretty cheap.
Although I suppose I could have one of my sons-in-law repair the leg pockets and then just keep it as a backup should my daily driver 22" ever give up...
Last edited: