Administrator
Staff member
I found these two 1985 Weber Genesis 3 print ads on Pinterest. Note that these grills have the rarely seen wide wooden slat shelving. Also, the Weber phone number is 800-000-0000...perhaps these were early design comps.
Genesis 3 shown here came with the side burner as standard equipment. Genesis 2 came with a wooden work surface in place of the burner, but included a connection off the manifold for an optional burner to convert the Genesis 2 to a Genesis 3.
Really beautiful ads...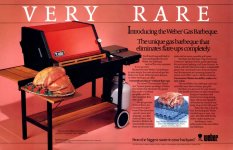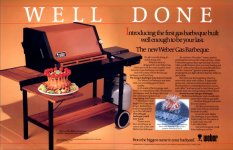 You can see another example of a wide slat Genesis 3 in this
1988 print ad
.
Last edited: