Well - here I am, a mostly satisfied WSK customer, able to produce some good results, but still having issues controlling temperature.
This past Sunday I smoked some beef short ribs. Results were pretty good, 4 out of 5 stars (photos below). Bark was awesome, but didn't get the tenderness I wanted. WSK ran a rock steady 290 give or take 10F, but when I pulled these little bad boys off at 200F internal, I didn't wrap in foil right away. Instead I put in a 170F oven, around 3PM, and then after being in the oven for an hour or so, they weren't tender enough, so then I wrapped in foil with butter and some beef broth, and then plated up around 6 PM - again, these were good, but not quite what I'd hoped in terms of tenderness (photos below). I'd like to perfect these little bad boys... could be a "signature dish" since wifey said she liked them
WSK was set up with the grate on bottom, about 2/3 full of KF Original. I put a lighter cube in one spot near the edge, added the deflector plate, the water pan (with foil ball spacers) and closed the lid, top vent flipped open for full air flow, bottom vent wide open, after I hit 200, I put the bottom vent at the "smoke" setting, flipped the top vent down, and closed the 4 holes about half way. Never cood could down to that 250 to 275 range after that. Of course... I've already admitted to a less than stellar resting method, so maybe running a little hot has nothing to do with the 4 out of 5 star results. It was also a 90F afternoon, and very little wind, and no rain... The WSK ran for about 3 hours, and used less than half of the charcoal I dumped in (see pic below)
Or..... maybe I shouldn't have used my kabob skewers... although it was sort of fun to cook like that, I don't think it really helped anything. I was thinking by using that method, the meat would never touch grates and I'd never lose any bark... of course I wouldn't have that issue if I just put the bone side down on the grate either... (yes, I do tend to overthink things).. As always, open to comments and questions if I've left out anything important. Let me know what you think!
Here we are, about 2 hours into the cook. Short ribs seasoned generously with 16 mesh black pepper and salt, skewered to keep them off the grates, water pan underneath to help keep temperatures down, and to add moisture to the cook chamber. I pulled them about an hour later at 200F
Here we are - after 3 hours of smoke, 1 hour unwrapped resting in a 170F oven, not tender at all. I wrapped in foil w/butter and beef broth. Bark was lookin' pretty good!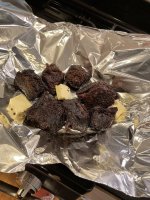 Here we are on the plate with some home made TX style beans and salad - bark and flavor was great - texture was a little more chewy than I wanted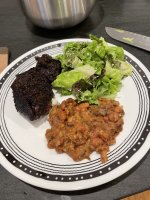 This photo taken after the cook gives you a pretty good idea of how I set up the fire, and how much charcoal I used. Maybe I should have set the charcoal up between two baskets, sort of like a snake (or fuse) to help limit how many briquettes could light at once? OR maybe if I only need a 5 or 6 hour cook in hot weather, should I just put it about half that many briquettes?