We got tasked to cook a whole hog for a party with about 50 guests. I was going to do a 75-80 lb hog but found out it would be cheaper to do a 100 lb hog, and they get to keep the leftovers. This was our first whole hog on the Lang 84 and my first whole hog cook.
Hog showed up at 120 lbs, so now they have a lot of extra meat. But she did fit in the 150 quart cooler I brought (thankfully with a domed lid or there would not have been much room for ice).
My plan was to cook for 12 hours at 275° and then have a couple hour rest, drive to the party (9 miles) and serve. Got in trouble when I started asking other people what they did and reading online. I checked with Kevin (Thanks Kevin!) and he confirmed my original timeline should be close. Got everything setup to come back out at 1 AM and fire the smoker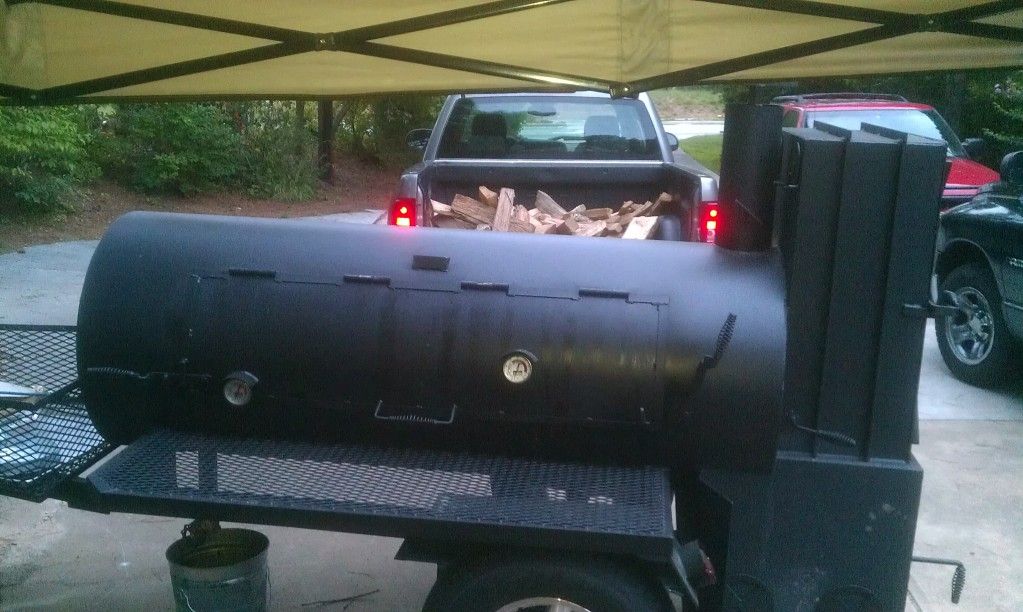 Fired a couple chimneys of Stubbs around 1 AM. Usually we just use a little bit of K to get the wood going, but since this was going to be 120 lbs of cold meat I wanted a nice fire going.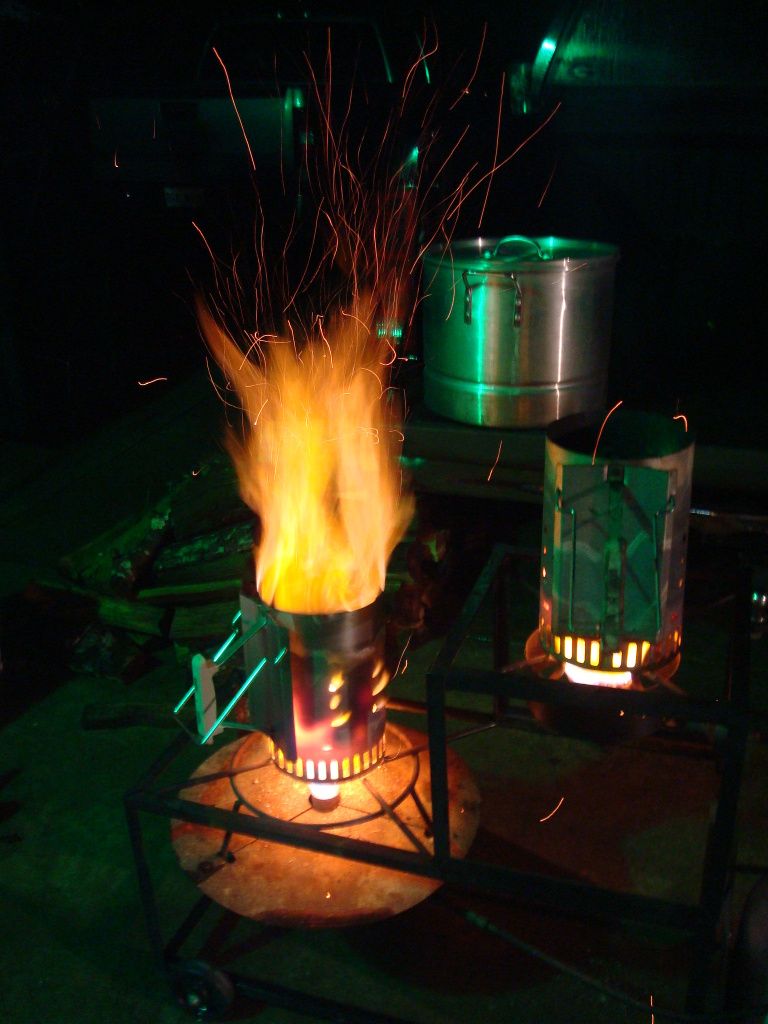 We kept it simple with the prep. Flipped her over and removed some bits left behind. S&P underneath, flipped it back and salted the skin. I know the salt didn't penetrate but it would have been weird not salting both sides of something. Then removed the eyes, foiled the snout, ears, and tail. We also balled up some aluminum foil the size of an apple and pried open the mouth to stuff that in there.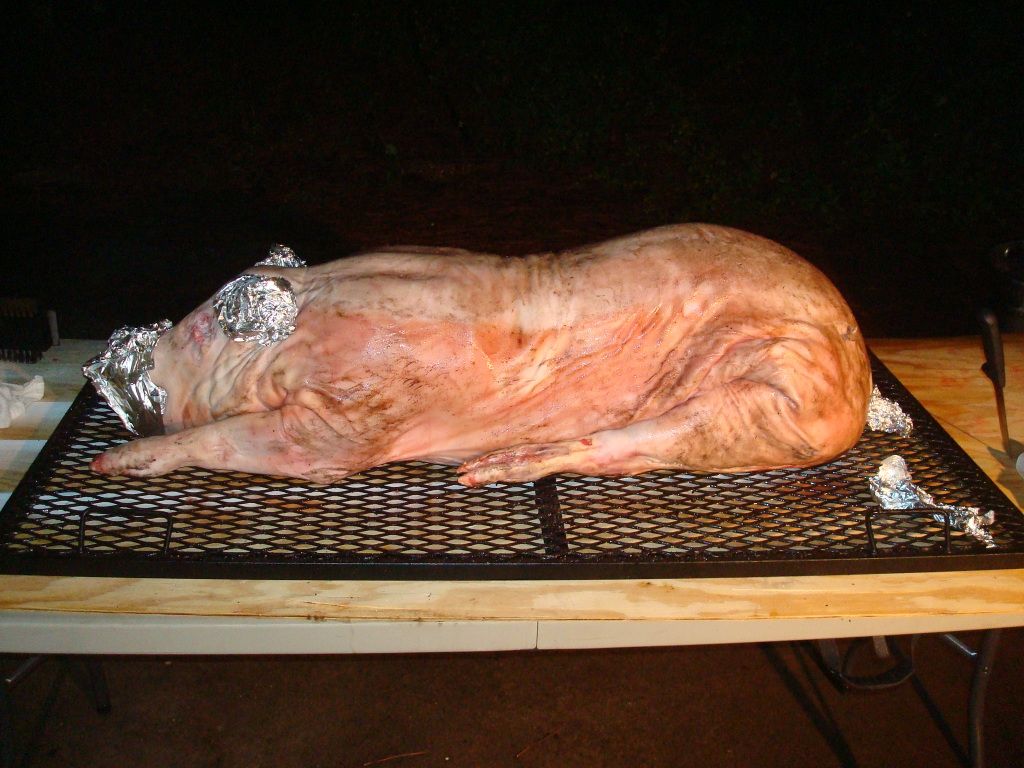 We took the top sliding rack of the Lang out and used it as a tray to move the hog around. Made it much easier to get on/off the smoker.
The right side of our Lang runs anywhere from 20-50° degrees hotter than the left depending on how we have our fire positioned in the firebox. If the left side dropped below 250°, we added a couple logs. If the right side dropped below 275°, we added a couple logs. This kept us at an average of 275° or so throughout the cook. It's a whole hog, so it's flexible
At 8 hours in we finally opened it up to see how things were going. We also added probes to the shoulder & ham. Shoulder was at 162° and Ham at 180°. We spun the hog around about backed the cooker down to around 250° average after that.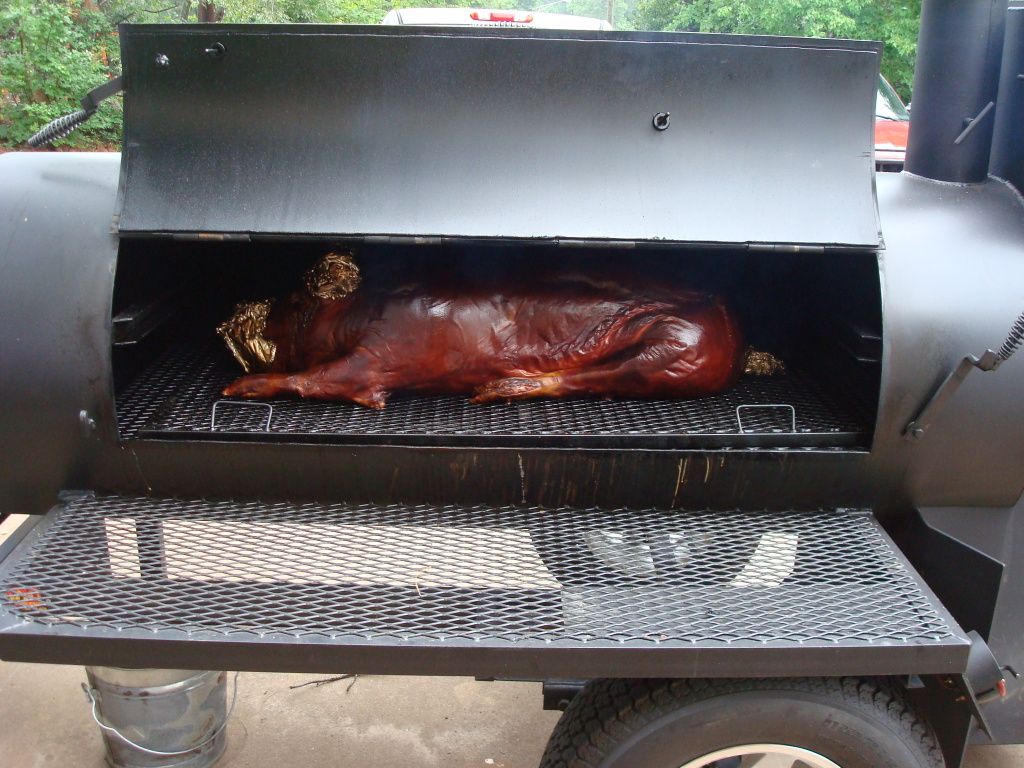 At 1:30, 11.5 hrs in, we were around 195 on both ends so we shut the cooker down to 150° to let it rest.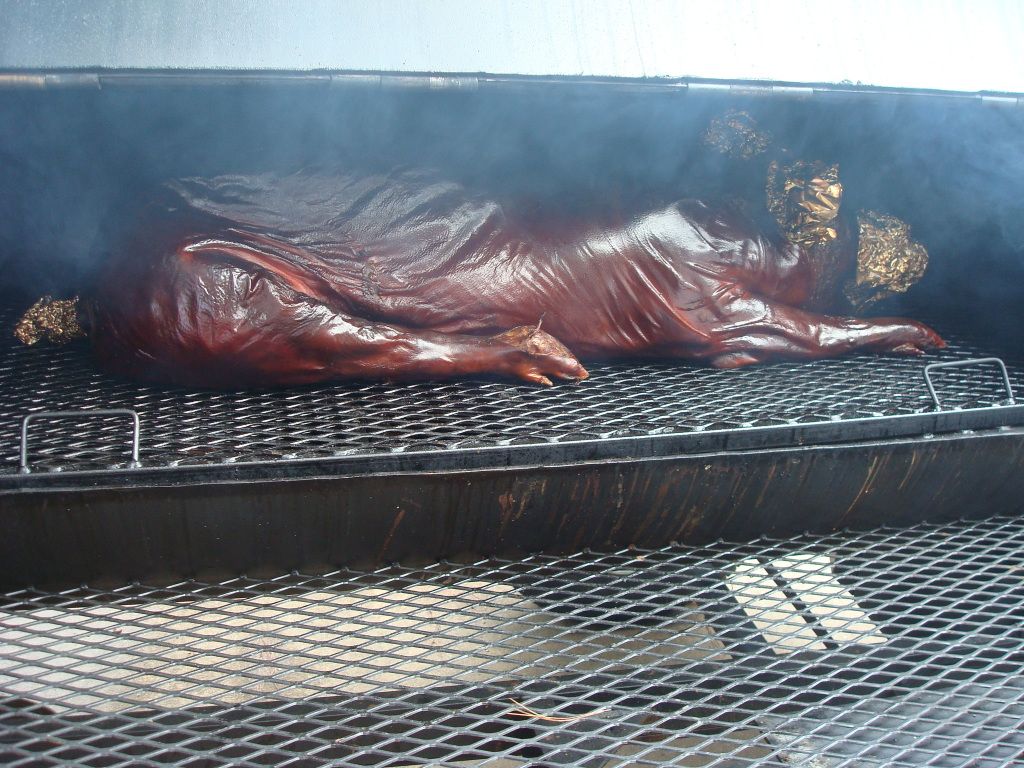 When we got to the party we opened up the smoker for everyone to see. Setup a table where we could pull the rack onto. Once out we garnished the hog for a photo op before we cut in.
The meat came out really good. 120 lbs was overkill for the party, but they got a lot of leftovers out of it. Honestly the cook wasn't that hard since we had a couple people doing it and could rotate sleep shifts. Using the rack to get the hog on/off made life really easy.
Thanks for looking!