I really like the added height that the Master Touch legs offer on a Weber kettle. And, as plastic handles go, the special black ones are nicer than any others I have seen. At the same time, I have long wanted a
Crimson
kettle (especially after the disappointing launch of the "Ltd Edition" red one). More recently, the Ace Hardware special color "
Indigo
" also caught my eye.
So, I have accumulated a couple sets of used Master Touch parts that I have recombined to make my own MT kettles in my favorite colors for newer kettles: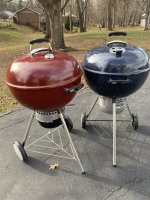 I am still working on the insides, but the Indigo one is all set. (1) I used the Aura stainless charcoal grate for starters. For $35 I think this hefty, really nice grate is hard to beat. (2) I picked up the Deluxe version of the Slow N Sear on a recent flash sale. (3) Finally, I am using a wonderful flip-up grate from
Killa Grilla
that I have had quite a while. Mark Baron of
Killa Grilla
does beautiful work, and I expect this grate to pass down to the next generation. (The warming rack is just one that came with one of my Master Touch acquisitions. It is not stainless, so it is amazing for it to be in such good shape. I may try it out sometime for extending the area for low and slow bbq.)
I also installed high heat felt on both of these kettles. They need to be new or extremely clean to do this. I saw this on a Tom Horsman video. I really like how the lid goes on without a metal to metal "clang" now, and I am sure that it will help better control smoke and heat loss around the rim.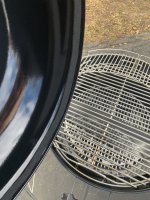 Speaking of Tom Horsman, I also borrowed his idea for a "do-it-yourself" version of the diffuser plate as found in the Master Touch Premium. I got the parts recently and hope to finish a set and install them on the Crimson kettle. Besides giving an alternative low and slow cooking adaption, I can see for myself (and share here) how they compare. This is Tom's video on making your own diffuser.
If I had seen the post about the Napoleon version being available for $74.99 before ordering the parts, I might have forgone the effort, but it will be fun to give it a try!
LAST NOTE:
You can definitely see in the pictures that the Crimson kettle has a more matte, dry finish
. The same is true of this color as it is now offered only in a Peformer version. It is also true on the Slate Blue color, which I got to see close-up as this was one of the used kettles I bought to get the Master Touch parts. In comparison, the Indigo color feels slick and has a more glossy finish

. I really like the Ace Indigo color for a kettle and also on their special edition Genesis II.
Last edited: