Hi All,
I am using a WSM 18.5. Added a gasket kit to the door and lid.
I have been using the coffee tin method to start (without the tin). Adding about 25 lit coals into a hole in the middle of a full coal bed (Kingsford Blue) with wood chunks buried. When running manually with a water pan (cold start) I get good temp control and usually need to stir the coals after 10 to 12 hours to deal with ash build up and get the fire perked up. When running manually I always leave the top vent open.
I recently picked up a Thermoworks Signals and Billows combo (with the damper). I am getting a repeating pattern across 2 smokes using the same coal method. and starting the temp controller after letting the pit get most of the way to temp. The temp fluctuated a bit at the start so I closed the damper to about 7 clicks and got a nice stable temp, but after a few hours the temp suddenly drops (fan is pulsing during the drop and never went constant). If I stir the coals and open the billows damper a little, I get the temp back up but the pattern repeats. I also tried opening the top vent a bit more (started at 1/8 moved to about 1/3) with minimal effect. Outside temp was 80f overnight.
Here's my temp trace from a recent cook.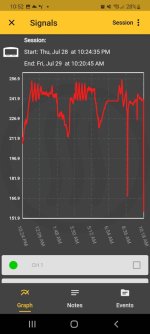 After the second dip I had a connection issue (flat line).
Based on other threads I am suspecting that my coal method or top vent setting isn't right for the billows setup. Any advice on what works for others would be greatly appreciated.
Last edited: