Terry Black's Barbecue
900 North Colorado St.
Lockhart, TX 78644
The home for Lockhart's best BBQ from the legendary Central Texas BBQ family.
www.terryblacksbbq.com
Been wanting to try the new Terry Blacks in Lockhart. It's funny how many blacks signs are up making sure you know it's not "the original", I guess things with family can get ugly. Anyway, got there Saturday at about 11:30. It wasn't busy and we walked right in but this could have just been a slow day as there was no line at city market when we passed it either. Nice looking spot, you walk right past the pits on your way to the dining area. We had beans, potato salad, rice for sides and brisket, a jalapeno sausage, turkey and spare ribs. Oh and a mini pecan pie that we took home. Sausage was great, turkey and ribs were both good. Ribs had a touch of a sweet-ish sauce that was a nice change from the norm. Fatty brisket was very good, nice post oak flavor and bark but had a bit of unrendered fat in it. Lean brisket was very tight. Good flavor, maybe I let it sit too long on the tray as we were sitting outside on the very nice covered patio. It was unseasonably lovely outside today. Probably 65 with a light breeze. Oh and the beans were great. Could almost be chili with how much meat were in them. Three different sauces available on the side, hot, sweet and original. We both preferred the original. The ladies cutting and serving were very friendly and helpful. At this time, I have to say this would be my choice of bbq in Lockhart and I would for sure go back. Last photo is the dogs in the car as we opened the hatch and they could smell the leftovers. Cheers y'all!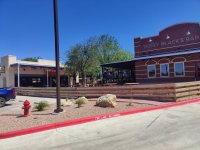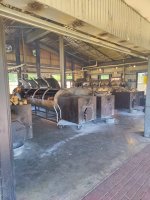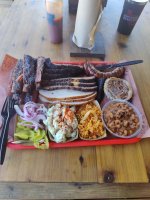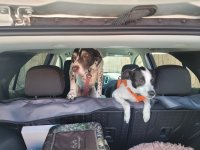 Last edited by a moderator: