Today's weather, even with the slight breeze, cool temps and fine rain mist (that has been going since last night's simple kettle cook), is much better for smoking than yesterday so I was excited to get smoking for Smoke Day 17 a day late!
For smoke day 17, I was inspired by last year's smoke day t-shirt. So beef on the bottom rack of the WSM 14, pork on the top, and chicken on my makeshift third rack.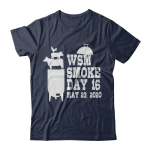 So first to the beef, I found these beef short ribs a while back and knew I wanted to do them for smoke day.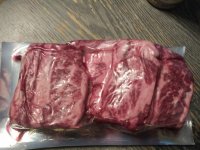 Went and got a new rub for this cook.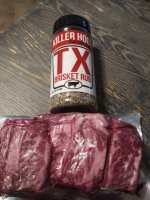 Got them out of the wrapped, patted dry, seasoned up, and onto the WSM with hickory and pecan.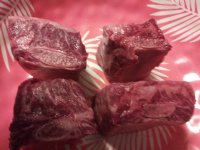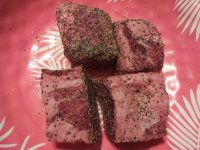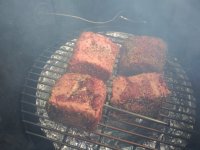 Next to the pork, a rack of St. Louis style ribs.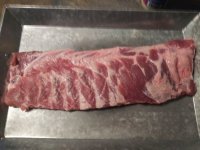 Cut in half seasoned and onto the WSM 14.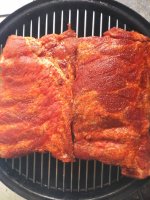 Last to the chicken. Two chicken breast following
Chris's classic recipe
. Seasoned and onto the makeshift third rack.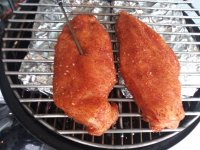 Now to the smoke. Beef ribs went on at 9:45, here they are at 11 am right before I put the pork ribs on. They got a mopping of beef broth, W sauce, and red wine vinegar.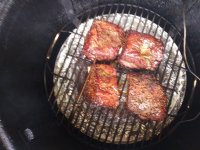 About 6 hours in reading at 188.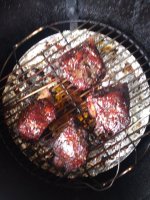 And right before 7 hours, prob tender done!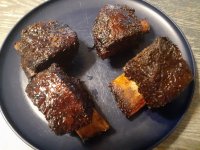 They looks so good I have to put another photo.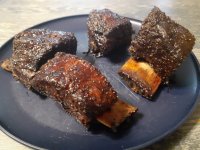 Wrapped in foil and towels in in the cooler waiting service.
This one did not make it to the table.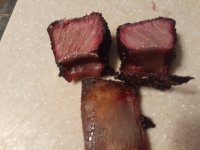 Here are the pork ribs at the three hour mark getting ready to get wrapped.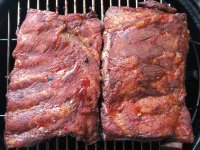 After the wrap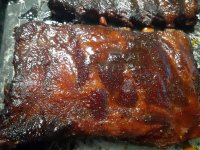 Sauced, done, and cut.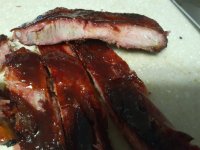 Smoke Day 17 Plate of Meat.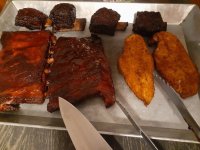 And the plate.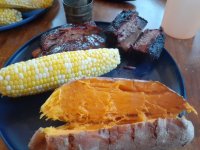 The beef ribs were the stars today. That is probably the best slow cook beef I have ever made!