This concludes a post in Grilling about not using my grill much recently. I'll add links below to the original recipes that I borrowed from to create this. Many recipes are similar with variations on spices, cooking method, and some type of meat such as using a ham hock. Personally, I found the resulting soup to very, very good -- but it can be improved.
Here's the recipe if you're brave and want to go for it. Lots of commentary below because I was learning as I went.
Ingredients
Converted from a vegetarian recipe.
Add 1/4 - 1/2 lb smoked pulled pork or thin strips of VA baked ham after blending
If less spiciness is desired reduce or eliminate cayenne.
1 - 1/2 lbs. dried black beans

3 tbsp. olive oil

1 large yellow onion, diced (about 2 cups)

1 bell pepper, diced (your choice, I used red). Option is a small poblano.

1/2 - 1 large diced jalapeño or 1 Serrano

4 - 6 cloves garlic, minced

2 ribs celery, diced

1 can (15 oz) diced tomatoes including juice

1 tbsp tomato paste

2 canned chipotle peppers, roughly chopped + 2 tbsp adobo sauce from the can

4 cups beef/chicken broth or stock

2 tsp. kosher salt

1 tsp. black pepper

2 bay leaves

1+ tsp. ground cumin

1+ tsp. dried oregano

1/2 - 1 tsp cayenne *

1/2 - 1 tsp ground allspice *

1/2 tsp ground ginger *

1+ tbsp lime juice or apple cider vinegar *

1 - 2 tbs chunky Peanut Butter (I used JIF.) *
*Optional
So this is everything that went in.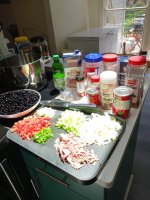 Instructions
Clean and soak black beans overnight and then drain. (If you want to skip soaking add 2 more cups of broth and cook longer.)

In deep pot, saute in olive oil the onion, celery, peppers and garlic. Season with a big pinch of salt.

Cook for 6 - 8 minutes, until vegetables have softened, . Season with another pinch of salt and pepper.

Add diced tomatoes, chipotle peppers and adobo sauce from can, tomato paste, bay leaves, cumin, oregano and stock/broth. Stir to combine.

Add black beans and stir again to combine.

Cook covered on med high for 1/2 hour, then reduce heat to high simmer until beans are desired softness (6-8 or more hours). Stir often to avoid sticking.

After beans have softened, stir in 1 tbsp lime juice (or more to taste). Check the soup for seasoning and add more salt and/or pepper, if needed.

Remove bay leaves. In blender, purée 1/4 to all of soup or use immersion blender as desired. Serve with diced red onion, diced bell pepper, avocado, sour cream, plantain chips, cilantro or lime wedges if desired.
Option: Puree all of soup to a smooth consistency.

Option: After blending, stir in pulled pork or shredded ham and heat on low at least an additional half hour. (Strongly recommended if it's within your lifestyle).
Other recipes call for a ham hock. I included most of the above options, but didn't have the ginger. Depends on what's available.
I meant to get a pic before the puree, but forgot. You can still see some of the beans and veggies.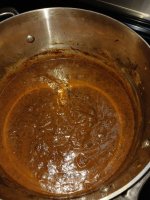 On a cruise recently, I had the best black bean soup I've ever had which inspired me to make my own. It was labled "Cuban Black Bean Soup" and had a rich complexity that I attributed to a multitude of ingredients. I've seen recipes with the basics above and some with most or all of the "options" that I included. I went for the multitude.
This took a lot longer to cook than I expected. I used the dried black beans here while I have always used canned beans for my chili. Now I understand why so many recipes call for an instant pot. I also feel that you can't have too many black beans.
As I said, my result was really good but can be improved. To start I would only use 4 cloves of garlic instead of the 6 I added. My wife, who grew up with beans and onions almost as a staple, said that beans should always be more onion than garlic. OK(?). I just felt I had too much garlic. Also, next time I'll eliminate the jalapeno and the lime juice. Again, it's just an added touch that may not be wanted. As we all know, it's easier to add what was left out than to take out what's cooked in.
I'd also use more peanut butter -- say a quarter cup. I'm not trying to flavor it with peanut, but to enhance that richness.
The soup the cruise line served was pureed to a nice slurry and then pulled pork was cooked into the puree. I chose to only blend about 3/4 of the cooked soup so that I would have a little bite or chunkiness. Next time I'll definitely blend all of the soup and leave any bite to the added meat. It's really good, but to me the puree is so much better without the chunks.
I'm not great at presentation, but this sure looks good to me. And I do recommend a dollop of sour cream.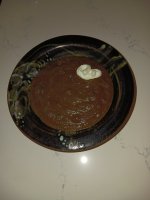 I assumed from the start that I might want to had more heat once I tried the final product. For me it could be, but it's certainly not necessary. I can still add some habanero sauce to a bowl when I feel like it.
I decided to include this in the Main Course section because it's so rich and satisfying. Soup and salad would be perfect. Or soup as an appetizer. Or soup!