This seems like the right place for this one?
Anyway, I've posted my pizza dough formula a bunch of times in various places, but never here in the recipes forums. So, here's my version of pizza dough......
Formula for 1x280g dough ball.
This should give you an 11-12" pizza depending on how thin you get the dough when you open it. The 00 flour REALLY makes this dough super silky and easy to work with, so it's worth the effort to find it if you can.......
171g Flour (50/50 All Purpose, and 00 flours)
104g Water
4.8g Salt
3g Olive Oil
.25g ADY
Mix until all ingredients are incorporated into a rough dough, then let rest covered in mixing bowl for 20 minutes. Knead for 5-10 minutes or until smooth and elastic, let rest in bowl @ room temp for 2 hours. Divide into 280g portions, form tight balls, place into oiled containers, cover and place into fridge. Keep it in the fridge for at least 12 hours, 24 is better, and you can keep it up to 48-72 hours. Remove from fridge 2-3 hours prior to intended cook time.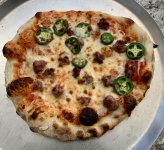 Last edited: