...I roti'd some picanha this evening, which turned out really good.....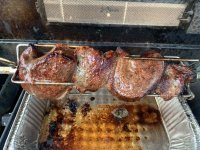 I tried out something new (for me), though, that kind of stole the show......potstickers!
Made the dough as outlined in
THIS RECIPE
. I used my pasta roller to roll out the dough, then cut out circles with a container I had that was ~3.5"....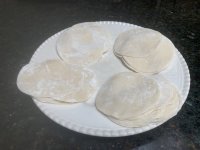 Had some leftover U15 shrimp, so made a filling based off
THIS RECIPE
, and made up my potstickers (no, I haven't figured out pleating yet...)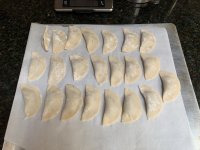 Got them in a skillet with some veggie oil, tossed in some water when sizzling, covered until the water evaporated, then lid off until they were nicely browned....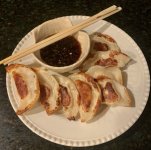 Sided up with
THIS DIPPING SAUCE
, and they were DELICIOUS!!!! A bit time/labor intensive, but totally worth it! I think I may try out my tortilla press to make the potsticker wrappers next time, but I will FOR SURE do this again!
Grill on!
R