Clark Crew BBQ
3510 NW Expressway
Oklahoma City, OK
73112
405-724-8888
Got take out from Clark Crew last week. Famous Daves hooked up with comp barbecue cook Travis Clark to create quite a place. Clark has the comp titles , won the American Royal and the Jack Daniels. And I hear he dominates regional competitions.
What he really knows is how to flavor food. Everything we had was very good. This is not KC barbecue or central Texas, its Travis Clark style of barbecue.
We got a 2 meat and a 3 meat plate so we could sample the brisket, rib, burnt ends, chopped pork, and turkey. Our sides were mac and cheese, beans, cole slaw, and smoked broccoli.
Clark separates his brisket, point from flat. They serve the flat sliced or chopped. And they serve the point as burnt ends. We got the brisket sliced and it was a bit tight and chewy, but full of flavor. He probably injects his brisket, I could not really tell and don't care. It had good flavor. And Clark has not watched Aaron Franklin's Master Class on how to slice brisket, he has his own method.
The burnt ends were delicious. While if given a choice of lean or fatty, I will ask for fatty , I enjoyed his version of the point, a lot.
The ribs were St Louis cut. I've smoked some ribs better than his. I've smoked a LOT of ribs not nearly as good. Again , its about flavor and his ribs have very unique flavor. They serve them sauced or naked. I got them naked and did not need sauce. Very good.
I really enjoyed the turkey, it was moist and again, full of flavor. I repeat, he knows how to flavor food.
They don't serve pulled pork. Its served what I would guess to be Carolina style, or at least how they serve whole hog in Carolina, it was chopped. I would order it again.
On the sides, the cole slaw was pretty much average fare. Mrs Dollar loved the smoked broccoli, she only allowed me to have one bite. Mac and cheese was creamy and two types of beans in his beans, along with some meat, it was either brisket or pork, I could not tell.
And the cornbread, wow , the cornbread ............... I came away with thinking that I enjoyed the cornbread as much as anything on the menu. Would love to have his cornbread with a pot of pinto beans.
Overall the food was excellent. I hear its the most popular restaurant in OKC right now, not just barbecue joint , but restaurant. And that's in spite of the pandemic. He opened in Dec 2019 and ran right into the pandemic, but has not missed a beat.
His smokeroom includes a couple of Camelback offsets and I believe he also has a couple either JR Oylers or Ole Hickorys, I can't recall , and not going inside, I can't verify either. He has a Santa Maria grill for steaks.
His meat is Snake River Farms wagyu, I'll attach his menu, which is extensive.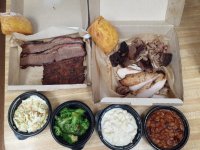 Clark Crew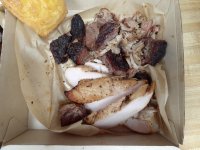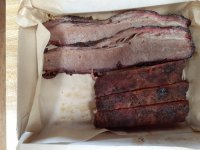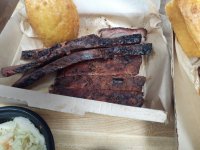 Last edited: