I got so excited when I went out earlier this week to the store and they had these. I have never been able to find them in the store. The only time I have had them was when my family got the online/delivered for me.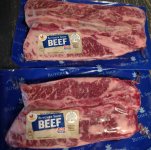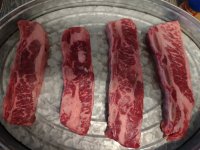 Followed the same recipe I followed the first time.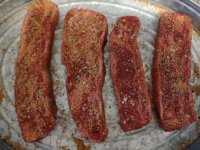 I put a little piece of pecan wood below the charcoal it smoked a lot!
Keep the kettle between 350 and 375 flipping every 5 mins, and I pulled them after 25 mins. All were reading above 160 at this time.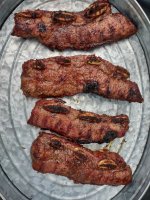 One of the smaller ribs did not make it to service. Shoot, It hardly made it to the serving tray. I read an article that said Flacken Style Ribs are the beef version of chicken wings. Well, I agree! This one was so much fun to eat, it was hot and I was burning my fingers, it was an amazing mess.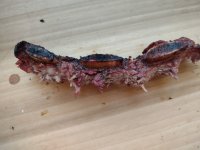 The bigger two did make it to my plate and the other smaller one made it to my daughter's plate.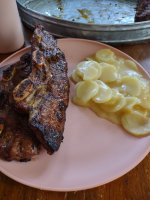 This IS my favorite beef dish!!! The beefy/salty/fatty natural taste of the meat, with the sweet and savory of the rub, and the chewy bite from a "tougher" cut all together is prefection to me!
They only problem is that I didn't buy more, what was I thinking!!! Let's hope this is become a normal stocked item.