Taking a break from my other project, so I decided to clean up some old gas valves to get ready for the upgrade to natural gas.
First step was to remove the gas valves from the manifolds. A 3/4" wrench and vice made quick work of it.
A minute or two on the wire wheel to clean up each valve. Don't need comments about that open junction box...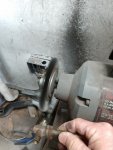 Two down, one to go.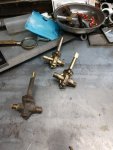 I didn't want to wire wheel the interior part of the valve, so a couple of seconds with some Nevr-Dull cleaned up that area.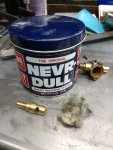 I used a straw on the carburetor cleaner spray to clean out the small passage ways. Make sure to protect your eyes!!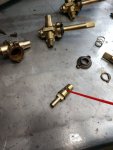 Don't forget the passage way at the bottom of the valve body! (I must be at the picture limit. Wait for it!)
Gerry