Second post today - that kind of day.
In an earlier thread, I explained I killed a Pi Zero W by (what I thought was) inserting it incorrectly. After being super careful, I used another Pi Zero W and also killed it! The PCB behind the CPU was extremely hot, and it smelled like magic smoke.
I probed the main board's Pi connector and I can't for the life of me understand what's wrong. All voltages seem ok if I compare to the schematics: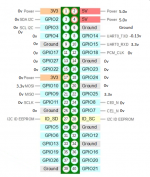 I probed 2 main boards and got the same results. Mind you, these used to work perfectly before I conformally coated the Pi - perhaps that's the issue? I'm using MG Chemicals acrylic coating - not some random brand. Worked flawlessly on my HM, so not sure if there's something particular about the Pi.
Any thoughts?
Thanks!
Louis