Until today, I wasn't aware that there are different "vortex" accessories -- this and a cone shaped concentrator. Now I know. I haven't found a review of this vortex plate, though I have seen a few comments about it.
Basically, this is the vortex plate.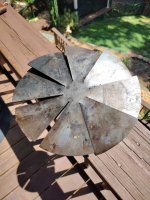 It's designed to fit on top of the charcoal ring of the 14.5 and apparently without the water bowl which would probably negatively affect the internal air/heat currents. Believe me, the vortex definitely creates a different set of currents. All through my cook, the lid vent was wide open. After starting, my WSM immediately starting heating up and kept on heating up. I honestly don't yet know how hot it will make the grate temps because, on this first use, I was trying to limit to a little above 300*. But even so, at one point it bumped up to 350* before settling to 341* and later to 325*. It's not so much that it's difficult to control as that, once I got the first settle point at about 235* with two lower vents closed and one open just a slit, I wanted more heat and then it sort of ran away. For cooking sausage and then chicken wings that wasn't a bad thing.
Ok, currents. Some time back
@Chris Allingham
published an analysis of internal currents and temps inside the WSM. One of the major observations often cited, is that with standard equipment the heat at the edges (inside the walls up to about 1") is significantly hotter than the temps more internal (on the grates). (We've probable all had things burn somewhat that were at the outer edge of our grates.) I put a thermometer probe tip inside at about 3 1/2" and another at 3/4" (both through the silicon port). I also dangled one through the lid vent with tip right near the grate. When I first got the WSM in "balance" I recorded the following temps. (I use quotes for balance because I'm not sure it wasn't just a temporary pause given later results.)
Lid Thermo: 225 3 1/2" inside Port: 235 Grate Level: 235 1/2" inside Port: 176
The vortex convection apparently diverts heat inward. After that I began removing the lid to add food. That caused things to, um, get more interesting. Over the next hour or two, temps started going up and because it also came time to remove food, I really wasn't fully in control.
Given there was not likely to be a critical impact on my food, it wasn't terribly concerning, but -- interesting. It's during this time that temps up toward 350* were obtained. At one point of relative stasis after I got them down some, I noted these temps (also shown in the pic below). (I'll do a separate review of the Enzoo thermo.)
Lid Thermo: 285 3 1/2" inside Port: 340 Grate Level: 316 1/2" inside Port: 234
These temperatures held up for hours. (Grate level got weird as I had to reposition it to avoid touching food.) The 3 1/2" probe finally dropped to 325* before I started shutting down by closing all vents. At that point, the WSM had been going for about 7 hours, there was still more than an inch of blazing charcoal in the pan and when cleaning up this morning, I found more charcoal remaining than after my last cook when I had to add charcoal for a 5-hour cook. Similar full charcoal ring to start both cooks.
So do I recommend this vortex? -- better believe it! Just in charcoal, it may pay off the $25 cost within 3 bags of RO lump. The ease of getting high temps for chicken or high heat brisket is wonderful. That has always been something of a problem for me. Temperatures seemed to hold very constant save for my "first time use" fiddling. Would I use the vortex if I wanted low and slow (225-250*)? -- no. At least not until I better understand how to manage the temps, though it would be great for charcoal economy. My one issue would be cleaning the vortex plate after drippings had burned onto it. I suggest starting with a steel putty knife to scrape it clean. Whether you want to wash it after that is up to you. I tend to clean my grill grates by high heat burning and scraping.
It's obvious that more experience is needed with this vortex plate -- I will get that. (REALLY thinking about a high heat brisket!) Ideally, you could just burn a full ring of charcoal with no food and better evaluate how to manipulate things, but 1) I'm not so inclined and 2) that's hardly what would be called "real world experience". So I'll just have fun and hope everyone reading will also.