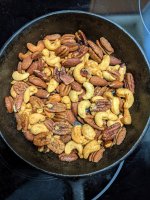 Hickory Smoked Nuts
1 tsp brown sugar
1 tsp cumin
1/4 tsp salt
1/4 tsp paprika
1/4 tsp chili powder
2 tsp safflower or canola oil
2 cups mixed nuts: almonds, cashews, pecans
1 handful of soaked Hickory wood chips
1 Prepare a charcoal fire for 400f. I started 18 Royal Oak briquettes in the Go Anywhere.
2 Mix the sugar, oil, and spices well. Add nuts and stir to coat well. I mixed everything in an 8 inch cast iron pan, but a stainless steel tray or aluminum pan would work as well.
3 Add the Hickory chips and set the pan over indirect heat to roast for 20-25 minutes. Part way through give it a stir and rotate the pan.
4 Remove the pan with gloves and let it cool. Wait until the nuts have cooled down to room temperature. They will be crunchier!
If you have any leftovers, store in an airtight container for freshness. (Edited for Chris) =D
Last edited: