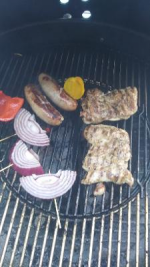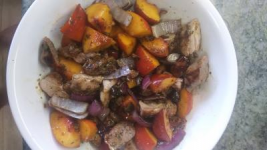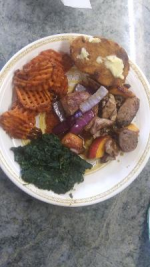 Grilled Chicken and Sausage Tossed with Peaches, Peppers, Pecorino and Black Olive Vinaigrette
1/3 cup extra-virgin olive oil
1/4 cup balsamic vinegar
1 tsp. minced garlic
1/4 cup pitted, chopped, good quality black olives
Kosher salt and freshly cracked black pepper to taste
2 ripe but firm peaches, pitted and cut into 8 chunks
1 cup flat parsley leaves
2 lbs. boneless, skin on split chicken breasts
1 lb. hot or mild Italian sausage links
2 red bell peppers, halved and seeded
1 red onion, peeled and sliced thick
1/4 cup vegetable oil
1/2 lb. very thinly shaved Pecorino Romano cheese
1. Build a multi-level fire in your grill: Leaving one-quarter of the bottom free of coals, bank the coals in the remaining 3/4 of the grill so that they are 3 times as high on one side as on the other. When all the coals are ignited and the temperature had died down to medium, (you can hold your hand about 5" above the grill grid, over the area where the coals are deepest, for 4 to 5 seconds), you're ready to cook.
2. In a large bowl, whisk together the evoo, vinegar, garlic black olives and salt and pepper to taste. Stir in the peaches and parsley and set aside.
3. Sprinkle the chicken generously with salt and pepper and place over the coals skin side down. Grill until the breasts are just opaque throughout, about 7 to 9 minutes per side. To check for donenes, nick, peek and cheat. Cut into one of the breasts at the thickest point and peek to be sure it is opaque all the way through, with no pinkness. Soon after you start grilling the chicken, put the sausage on the grill and cook, rolling around occasionally, until they are heated through, 8 to 12 minutes, moving the sausage briefly to the side with no coals if there are flare-ups. When the chicken and sausage are done, cut them into bite-size pieces and add to the bowl with the vinaigrette and peaches.
4. Coat the pepper halves and onion slices with the vegetable oil and sprinkle generously with salt and pepper. Place on the grill and cook until both are well browned, about 2 to 3 minute per side. Cut into bite-sized pieces and add them to the bowl with the meat and peaches.
5. Toss all the ingredients together until everything is well coated with the dressing. Transfer to a serving bowl, sprinkle with the Pecorino and serve. Serves 4 to 6
Source: "Let The Flames Begin" - Chris Schlesinger & John Willoughby -2002
This was dinner last night. VERY, VERY GOOD!!!!! (serve with some good crusty bread)
Last edited: