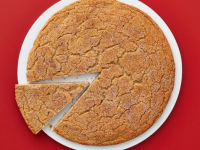 I just saw this in my new edition of Food Network mag. One of my favorite cookies, couldn't wait to share it with you all.
Giant Snickerdoodle
1 cup plus 2 TB. all-purpose flour
1 tsp. ground cinnamon
3/4 tsp. cream of tartar
1/2 tsp. baking soda
1/4 tsp. salt
7 TB. unsalted butter, at room temperature
1/2 cup plus 2 TB granulated sugar
2 TB. packed dark brown sugar
1 large egg
1/2 tsp. pure vanilla extract
1. Preheat the oven to 400F. Whisk the flour, 1/2 tsp. cinnamon, the cream of tartar, baking soda and salt in a medium bowl until combined.
2. Beat the butter, 1/2 cup granulated sugar and the brown sugar in a large bowl with a mixer on medium high speed until light and fluffy, about 3 minutes. Beat in the egg and vanilla until well combined. Reduce the mixer speed to low. Add the flour mixture and beat until just combined.
3. Combine the remaining 2 TB. granulated sugar and 1/2 tsp. cinnamon in a small bowl. Pat the dough together into a ball. Roll in the cinnamon sugar until well coated, sprinkling the cinnamon sugar on the dough as you go. Put the dough in the center of an unlined baking sheet. Press into an 8" round, about 1/2" thick. Sprinkle any remaining cinnamon sugar over the dough.
4. Bake until the cookie is cracked in the center and light golden brown around the edges, 10 to 12 minutes. Transfer the pan to a rack and let the cookie cool completely on the pan. Cut into wedges.
The recipe says it serves 8 to 10, I don't see that happening. lol
Source: Food Network mag. Dec. 2020