My Genesis 1000 seems to be outputting a very low amount of flame.
I read that this could be the regulator triggering into Bypass Mode.
Even if that's true, I wanted to try to swap a different grill's LP Regulator onto it, but the newer ones look different; they have a large nut connection on the end.
Is there a certain "old" style Regulator I would have to try to get for the 1000 to try to connect to it?
This is the 1000: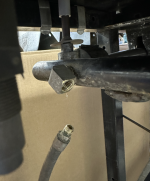 This is the new one: