Sam's Club had Prime briskets last week when I was in there so I picked one up for a smoke this weekend. After reading through the Franklin book I wanted to give his method a shot so I seasoned with 50/50 salt and pepper and prepped the WSM 18.5" for 275, KBB for fuel. I've never wrapped a brisket and usually use some sort of seasoning like from Meat Church or 4 Rivers but always looking for a new better tasting way so went with salt and pepper. Had a bit of temperature issue last night where the fire dipped and the cook stalled at about 142* for a bit so hopefully this thing turns out and doesn't kill us all. The smoker never went below 180* so it just cooked really slow for a couple hours. Really getting tired of the Signals/Billows giving me issues but that is for a different thread.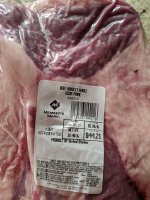 Forgot to get a precook seasoned pic but here it is before wrapping.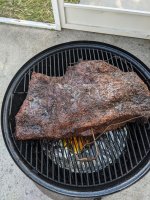 Just hitting about 180* so more pics as she finishes.