I have been looking for a small Q to use for camping where charcoal is not allowed.
Picked up this Q1200 for 500NIS ($140).
It came with 2 spare griddles and an Onlyfire rotisserie kit, so a decent deal price wise.
But MAN is it dirty
It was so dirty that I needed to cover my trunk and wear gloves before putting it in my car.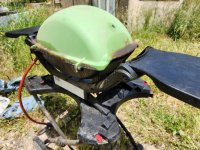 I run into many dirty Genesis, but it's mostly baked-on crud. This Q was swimming in grease. Maybe because the genesis reaches higher temperature in regular use.
First thing that I did was to take it completely apart and submerge everything in a bin with soap and water. I'll let it sit for a few days and see.