After seeing these on Aussi and European sites for indirect cooks, I decided to make one since I couldn't buy one here in Canada. Took an old scrap piece of SS.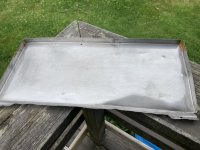 formed it to fit 2/3 of the grate area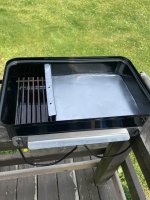 then cut the grate to give me a small size to fit in the bottom if cooking a larger piece of meat or a larger size to fit on top. I can use both pieces to have the regular grate size. Both pieces will fit under the charcoal grate when transporting so I can store charcoal and accessories inside the CGA. It is not pretty but should work and it was free.