Administrator
Staff member
My dear mother-in-law makes this braised brisket on special occasions, especially for Christmas dinner each year. I don't know if it tastes so good because of the recipe, or because of the love that goes into it! So you'll have to add your own love and see how it comes out.
Regards,
Chris
Braised Brisket Flat
Brisket flat, 5-6 pounds, with just a little fat left on the fat side
1 white onion, cut into slices and separated into rings
Lawry's Seasoned Salt
paprika
boiling water
You'll need a shallow roasting pan and aluminum foil to cover the pan.
Preheat oven to 400*F.
Season brisket on all sides with Lawry's Seasoned Salt. Place fat side up in roasting pan. Top with a little paprika for color and a generous amount of the onion.
Place uncovered in 400*F oven without any liquid in the pan. Cook 30-45 minutes, until onions are very dark.
Reduce heat to 325*F.
(Optional step: Add more onions and/or canned mushrooms to the pan and cook another 15 minutes before proceeding to the next step.)
Add boiling water to cover bottom of pan, maybe 1 cup (less if you added mushrooms). Cover with foil and cook 2-1/2 to 3 hours until fork-tender. Check occasionally to make sure water isn't running dry, and add a little boiling water, if necessary.
When fork tender, let brisket cool, then refrigerate overnight. Next day, slice across the grain while still cold (easy if you have an electric knife). Put sliced brisket back in roasting pan with its natural juices.
To serve, cover with foil, warm at 350*F for 45-60 minutes.
Put a few slices on your plate, spoon on some of the juices and onions (and maybe mushrooms). Serve with scalloped potatoes and other favorite sides of your choice.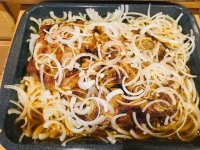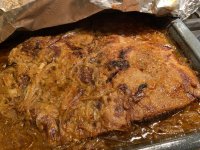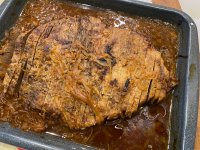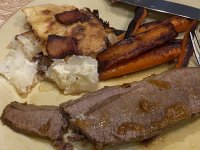 Last edited: