I got this amazing Bone-in Rib Eye for 50% off. This guy was less then $8. Picked up some Carne Costa steak house seasoning from Oak Ridge this past week when I went to the BBQ store. This was my first time trying it. Seasoned it up and drizzled with EVOO. Let it sit for an hour then added another layer of seasoning and EVOO and let sit on other hour and onto the kettle.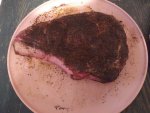 Also prepped some bbq chicken and veggies in the CI.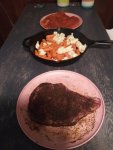 And the steak is on.
4 mins and flipped.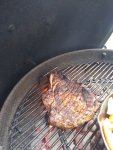 And the full grill.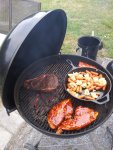 3 mins on the other side and off at 138 internal.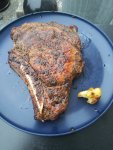 After a nice rest the first cut... perfection!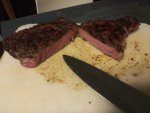 My side kick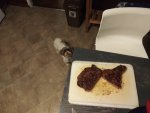 Another shot before I cut it up and plated it.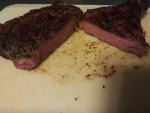 And plated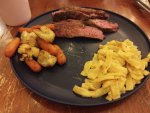 So besides bbq my other love is coffee, and when I opened the Carne Costa it smelled of dark coffee and pepper. It was as good as you guys here have said, that was an amazing steak!