Last week I took advantage of Thermoworks 25% off one item sale and purchased the Smoke X2 w/ Billows Kit. The packaging was excellent. After un-boxing, the first thing I noticed was the weight of main control and remote. These things are built very well! It made me feel like I had actually purchased something worth a damn. Just function testing on the bench proved everything was working properly, fan came on and ran.
Next was a dry run on the WSM. Since the 18" was cleaned up and in the shed from my last brisket cook I decided to try it on the 14". So, I got right to modifying the small dog bowl just for this project.
To start, I filled the charcoal basket about half full of KBB and topped with 20 lit brickettes, top vent less than 1/4 open. The setpoint on the controller was the default 225*. Here is a shot of the setup.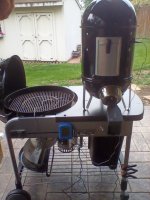 Sorry, the lighting sucked, very cloudy day.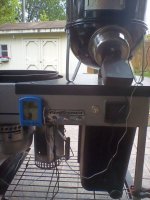 I monitored the temp for an hour while listening to good tunes and enjoying a few brewski's and initially it over shot by approx.10* before the fan shut off, then 10* under setpoint. It was difficult to tell when the fan was running because it is so quiet. After an hour the temperature remained in the ± 5* range.
If this is going to be the norm for this unit then I will be extremely happy!
Thanks for looking everyone.