Administrator
Staff member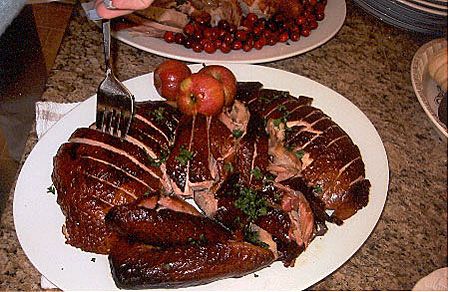 Here's a recipe for apple-brined turkey that is great cooked on the WSM.
1 12-14 lb turkey
2 quarts apple juice
1 lb brown sugar
1 cup kosher salt
3 quarts water
3 oranges, quartered
4 ounces fresh ginger, sliced thin
15 whole cloves
6 bay leaves
6 large garlic cloves, peeled and crushed
Vegetable oil or melted, unsalted butter
Combine apple juice, brown sugar, and salt in a large saucepan. Bring to a boil over high heat, stirring to dissolve. Boil for one minute, remove from heat, let mixture come to room temperature, then refrigerate to 40*F.
In a large non-reactive container, combine the apple juice mixture with the remaining ingredients and stir. Place rinsed, drained whole turkey into the brine. Use a heavy weight to keep the bird submerged, if necessary.
Refrigerate for 24 hours. Remove turkey from brine, rinse inside and out, and pat dry with paper towels. Fold wing tips under the bird. Brush outside surface with vegetable oil or melted butter.
Cook at 325-350*F to 160-165*F in the breast, 170-175*F in the thigh, approximately 2-1/2 to 3 hours. Cover loosely with foil and let rest 30 minutes before carving.
You'll find a detailed version of this recipe, including photos, here:
Whole Turkey - Apple Brined