Administrator
Staff member
"After testing our $3,000 gas grill, we detected one major flaw. Suddenly the word grill seems inadequate."
1998 was Year 2 for the Weber Summit gas grill lineup. Weber was big on
text-heavy ads
during this time period...no meat in sight, no close-ups of Flavorizer bars, thick stainless steel rod cooking grates, or control knobs. A far cry from the ads of 30 years earlier in which charcoal kettles were shown loaded to the hilt with turkeys, hams, and other savory goodies.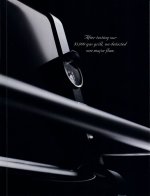 Last edited: