Make muffins…..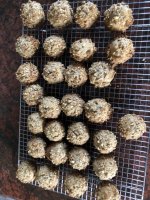 INGREDIENTS
1½
cups all-purpose flour
½
cup whole wheat flour or wheat bran
2
teaspoons baking powder
½
teaspoon baking soda
¼
teaspoon salt
1 ⅓
teaspoon ground cinnamon
⅛
teaspoon grated or ground nutmeg
1
large egg
¾
cup packed light brown sugar
1⅓
cups mashed ripe bananas (2 to 3)
⅓
cup vegetable oil
1
teaspoon vanilla
Topping:
For the topping
3/4
cups finely chopped pecans
2
tablespoons brown sugar
1
tablespoon melted butter
DIRECTIONS​
Preheat the oven to 375°F. Grease a standard 3 12 count mini muffin pans or line with paper liners.
Make topping by mixing pecans, brown sugar, and butter.
Whisk together thoroughly flour(s), baking powder, baking soda! salt, cinnamon! nutmeg.
Whisk together in a large bowl the egg, brown sugar, bananas, oil, vanilla.
Add the flour mixture and fold just until moistened. Do not overmix.
Divide the batter among the muffin cups, filling 3/4 full. Sprinkle topping onto muffins.
Bake until a toothpick inserted in 1 or 2 of the muffins comes out clean, 8 to 10 minutes. Let cool for 2 to 3 minutes before removing from the pan. If not serving hot, let cool on a rack.
Yyou can add 3/4 cup finely chopped pecans or walnuts to the dry ingredients.