Hi All,
I posted pictures of my pizzas baked on my old Genesis 1000 yesterday and a couple of the forum members requested the recipe. Here it is:
This is a dough that uses a preferment. It is made in two parts. It's pretty simple and doesn't take much work or time but you have to plan ahead because it is meant to rise in the refrigerator for 1-5 days. Most dough recipes that you start two hours before baking don't have enough time to grow the yeast and good bacteria and capture the natural gases from these organisms that add flavor to the crust. I usually start the dough on Thursday morning for our regular Sunday pizza. Part 1 is the preferment, a quick mix of flour, water and yeast. This starts the flavor development and gets the yeast growing for part two. Part 2 takes the preferment and adds five additional ingredients which are then kneaded to make the final dough. The last step is balling and refrigeration. The slow rise in the refrigerator adds flavor to the dough.
Note: The best way to produce consistent results time after time is to weigh your ingredients. If you measured a cup of flour five times, you probably would get five different measurements. Most professional bakers weigh in grams. The only essential equipment is a baking stone or steel, but it's beneficial to have a scale, stand mixer, infrared thermometer and pizza peel (the long handle paddle you always see in a pizzeria.)
This recipe yields two 16" or four 12" thin crust pizzas. It can be halved, doubled or tripled if you have a large enough mixer.
Step 1: Preferment
360 grams (about 2-1/2 cups plus 1 Tablespoon) Bread Flour -- King Arthur and Gold Medal are considered the best readily available bread flours
308 grams (about 1-1/3 cups) Water -- Spring or filtered water works well
1/4 teaspoon instant dry yeast
Place the water in a large bowl (glass bowl works well). Add yeast and stir. Add flour and stir until the dough is thoroughly combined and there are no dry parts visible. Cover bowl with plastic wrap and let sit in a warm place for 10 to 16 hours. Time will be shorter on warm days and longer on cool days. The preferment is ready when it smells yeasty, is puffy, has more than doubled and has lots of active bubbles on the surface and in the dough. If the dough starts to deflate, it will still be usable but the dough is a little beyond its peak and it's time to move onto the next step.
Step 2: Mix, knead, rise and ball
140 grams (about 1 Cup) Bread Flour
24 grams (about 2 Tablespoons) Honey or Sugar -- This will help to brown the crust under the less than optimal conditions of a grill
10 grams (about 1-1/2 teaspoons) Salt -- Sea salt or Himalayan Pink salt work well
16 grams (about 4 teaspoons) Extra Virgin Olive Oil
1/4 teaspoon instant dry yeast
To the preferment, add the five ingredients above. A stand mixer with a dough hook attachment works best. (I always take a short cut and dump all the ingredients in my bread machine and set it on dough. A hour and twenty minutes later it's done.) Knead for 10-12 minutes on a low speed. Dough is done when a fairly smooth ball is formed. You can also do this by hand but the dough is sticky. Resist the temptation to add more flour. Cover and let dough rise for one hour at room temperature.
After the dough has risen for one hour deflate, divide in half for 16" pies or quarters for 12" pies. Again a scale works best here. Form dough into balls. You should have two approximately 420g balls or four 210g balls. Place your balls in appropriately sized bowls (round bowls are ideal because they start you off with perfect circles when it's time to stretch your dough for pizza), cover with lids or plastic wrap and place in the fridge. Dough will last 1-5 days. I think 3 days is optimal.
When you are ready to make pizzas, take bowls out of refrigerator and place on counter until the dough comes to room temp. For larger balls, 1 to 1-1/2 hours, for smaller balls 30-45 minutes depending on the room temp. Meanwhile, place your stone or steel on grill, set burners on high, and close lid. As your stone or steel gets closed to temp (550 to 575 degrees F), flour your countertop generously, place dough on floured surface and add some flour on top of dough. Stretch (don't use a rolling pin) dough into 16" or 12" rounds, place on your peel and top with whatever sauce, cheeses, and toppings you choose. I learned a little trick when I was 14 years old and I worked part-time making pizzas on a food truck. Drizzle a tiny bit of extra virgin olive oil on your stretched dough, brush it up to the cornicione (rim) right before your sauce it. This helps prevent a soggy dough, helps brown the crust and adds a richness to the pizza. I have baked this pizza on a variety of ovens and it seems to work best when the stone is between 550 and 575 degrees F. So heat your stone/steel to that temperature range. I had no trouble achieving 550 to 565 on my old Genesis 1000. Bake 7-8 minutes rotating after 5 minutes to achieve even browning of the crust. Watch the bottom so it doesn't burn. In my household we love a well done crust, but the beauty of home made pizza is that you can make it any way you like. I am including below two simple no-cook tomato sauces that I use regularly. Enjoy!
San Marzano Pizza Sauce
1 28 oz. can Whole Peeled San Marzano Tomatoes (D.O.P.) -- Cento brand is in most supermarkets and Costco, is reasonably priced and is very good
[Following ingredients are to taste but I'll give you my preferences]
2 medium fresh cloves of garlic, finely minced or put through a garlic press
1 teaspoon dried oregano
1/4 teaspoon red pepper flakes
Salt & Pepper to taste -- I usually omit these. I generally salt my pizza right out of the oven and add a sprinkle of Parmigiano Reggiano for more saltiness.
Pour the contents of the tomato can into a sieve over a bowl. Drain most of the liquid. The leftover liquid is great in soups. Place the tomatoes in a bowl. Crush them to your preferred chunkiness, add the remaining ingredients and mix well. That's it.
Pizza Sauce In a Hurry
1 28 oz. can Ground Tomatoes -- I like Pastene Brand, but they might not be available in your area. You can substitute crushed tomatoes but it is usually more watery and you might have to add tomato paste.
[Again, following ingredients are to taste]
1 teaspoon Extra Virgin Olive Oil
1/4 teaspoon garlic powder
1 teaspoon oregano
1/4 teaspoon red pepper flakes
Salt & Pepper to taste
Sugar (See directions below.)
Combine all ingredients in a bowl, stir well. Test taste. If sauce seems a little bitter, or too acidic, add some sugar until it mellows out. You probably don't want it to taste sweet, but a fresh tomato sauce should have a very slight undertone of sweetness.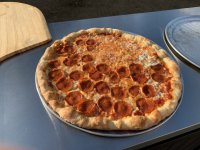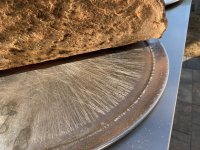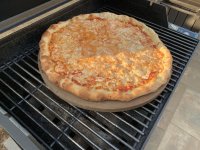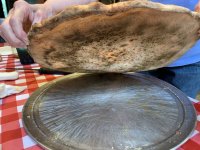 If you have any question, I'd love to share and if anyone wants a pictorial of a fairly easy way to stretch dough (no tossing involved, I promise!), let me know. I'll photograph the steps and pass them on the next time I make pizza. I'm from Philadelphia and I might even tell you about the famous Phillly sandwich inspired pizzas I often make. Hope you enjoyed this info. Take care.
Last edited: