Yesterday when browsing on FB mktplc under free stuff, I came to a cleanout with a bunch of pictures. There was nothing in the listing text for "weber" or even "grill", but in the seventh picture I saw: this machine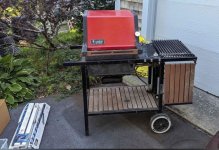 A couple of hours later it was home.
It was clearly missing both flavorizer bars and the upper table, but later inspection showed it also lacked:
Front panel which mounts the ignition module.
The clip which secures the folding table support rod to the frame when in the down position. I alternatively could use one of the "slide bars" on which a slider clip mounts, as in later x000s.
I will make a set of bars from a Gen x000 set, and I have a table to fit. I need some help with the other items.
Seems like here on Cape Cod, free grills become abundant when Labor Day arrives.
Last edited: