I am posting this recipe on this site because the introduction says it also makes a great marinade for chicken or fish. It can also be used as a vinaigrette on salads and also you can put a couple of tablespoons over ice and fill glass with seltzer for a refreshing drink.
Spicy Georgian Peach Vinegar
1 lime
2 medium-sized peaches, peeled and sliced thin
2 nickel-size slices fresh ginger, smashed flat
1 1/4 cups rice wine vinegar
1. Carefully peel half of the zest off the lime in one long strip, being sure not to cut off the bitter pith. Place peach slices, ginger and lime zest in a 16 oz. glass bottle or jar.
2. In a saucepan over low heat, warm the vinegar until hot but not boiling. Immediately pour through funnel into bottle, leaving just enough room for the stopper or cork. Close and store in a cool, dark place. Makes about 2 cups
Source: SS 7-90
DH just finished making this, will let you all know how it taste later.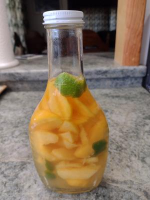 Last edited: