Baked this rustic loaf yesterday evening: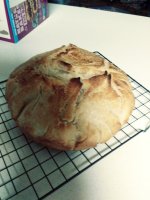 Really simple recipe, not much active prep time and makes a nice loaf.
3 1/2 cups AP flour
1 TBSP Kosher salt
1 1/2 cups filtered water
2+ cups active starter (see note below)
In a medium mixer bowl, stir salt into flour, add starter and water. Mix on slowest setting with dough hook for 10 minutes. Dump onto floured counter, stretch and fold 10 or 12 times then gently shape into a ball. Coat a large bowl with olive oil, drop in dough ball, turning so it's completely covered in oil and cover with Saran wrap. Allow to rest until size increases by ~2/3. Remove Saran wrap and turn bowl over onto a sheet of parchment. Pre-heat oven to 450F and then preheat Dutch oven for 30 minutes. Remove bowl and using corners of the parchment, lift the dough and set into Dutch oven, cut a couple of 1/2" deep slits in top (I use scissors) cover and bake for 30 minutes. Remove lid, bake an additional 10 to 15 minutes for desired crust color, turn out onto wire rack and allow to cool for several hours.
Note:
I store ~2 TBSP of my starter in a loosely covered12-ounce jar, in the fridge. It often sits, without feeding, for 4 to 6 weeks between uses. When ready to use, I sit it out on the counter in the morning, allow it to come to room temperature, stir in 1/4 cup AP flour and 2 TBSP filtered water, then let it work until the next morning. Next, it's mixed into 2 cups of AP flour and 1 cup filtered room temperature water and allowed to work until it's nearly doubled in size. I save and refrigerate ~ 2 TBSP and the remaining 2+ cups go into the dough.
After feeding weekly for several months, my starter hadn't developed a noticeable sourdough tang. I decided to abuse it by not feeding or using it nearly as often and, over a few more months, it developed nicely. I also think decreasing the hydration helped. If your starter is bland, I encourage you to try this approach with a bit of it.
Last edited: