I was going to start this last night on the BGE, but plans changed.
Since this is during the day, and I'm still learning the low temp control on the E6, I decided to use it.
Clipped in the billows, loaded a bunch of lump, tossed in some hickory pellets and got things going.
Four balls of foil on the deflector to air gap the drip pan. I'll end up shredding in the pan so I don't want burnt fat. I added a little water to the pan. Not sure I need it, butt we'll see.
A full size steamer pan is a perfect fit.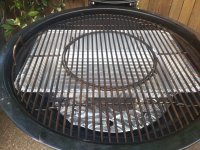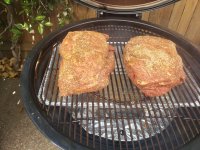 Last edited: