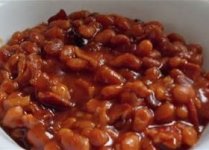 Root Beer Beans​
Vegtables
Prep Time:
10 minutres
Cook Time:
45 minutes
Difficulty:
Easy
Servings:
6 servings
Source:
Unknown, quite old
INGREDIENTS​
3
slices applewood-smoked bacon, sliced crosswise into 1 inch pieces
1 3/4
cup chopped onion
1
clove garlic minced
2
15 ounce cans cannellini beans, 1 can only drained and rinsed
3/4
cup Root Beer (preferably artisans)
1 1/2
tablespoon apple cider vinegar
1 1/2
tablespoon mild-flavored (light) molasses
1
tablespoon tomato paste
1
tablespoon Dijon mustard
3/4
teaspoon chili powder
1/2
teaspoon coarse kosher salt
1/2
teaspoon freshly ground pepper
DIRECTIONS​
1. Preheat oven to 400F
2. Cook bacon in ovenproof pot over medium heat until crisp, stirring occasionally
3. Using slotted spoon, transfer back to paper towels
4. Add onions to drippings in pot, cook until beginning to brown, stirring often, about 8 minutes
5. Add garlic, stir 1 minute
6. Add beans, root beer, vinegar, molasses, tomato paste, mustard, chili powder, 1 teaspoon salt, and 1 teaspoon pepper
7. Stir in bacon, bring to a boil
8.Transfer to oven, bake uncovered until liquid thickens, about 30 minutes
NOTES​
cannellini beans are white kidney beans. Navy beans work well too.
Great when cooked on a grill
Sent from my iPad
Last edited: