Hey everyone,
first off, I want to thank Bryan and everyone involved for the development of the HeaterMeter, it's simply amazing and I love every part of it. It works great and I really appreciate all the work that went into it!
After smoking some shorter things like bacon or a steak I tried my first pulled pork with the Heatermeter on saturdaynight last week and I got some questions about what went (if only a little bit) wrong.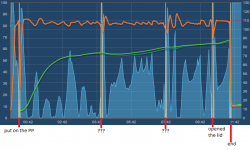 (note that in Germany we went from summertime to wintertime between saturdaynight and sunday -> 3am sunday became 2am, that probably messed with the graph, also all temperatures in °C)
Top vent position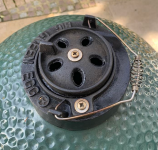 Probe placement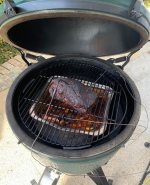 I started the BGE around midnight at around 7°C outside and put on the pulledpork (1,6 kg) around 0:30, setting the temperature to 107°C (225°F). I did not open the lid until the fourth marker, I do not know what caused those two "lid open detections", my guess is that the wires from the probes kept the lid "open" just enough for some wind to get through - any ideas?
I'm also a little bit confused on why the temperature of my pulled pork rose so slow, since it was on the smaller side of just 1,6 kg I didn't expect it to heat up this slow, can you see anything wrong with my top vent settings or maybe my pit probe placement? My recipe said that it would take ~8-12h for a 5kg piece to get to 95°C (203°F), i barely reached 88°C when I needed to take it off after roughly 12h.
The pulled pork was still extremely good, I'm just trying to find out how to improve on it even further. If I forgot to mention anything important please let me know!
Thanks in advance!
Marius