I still like cats, but I'm becoming more of a dog person... especially since my new best friend/golden retriever "Brooklyn" is on the scene. Here's a couple of photos of our cat Dodger, and Brooklyn which I submit as evidence, that he really might be the dumbest cat of all time;
Here, Dodger is snuggling with Brooklyn, thinking that all is well, and that a 1 year old Golden Retriever would never hurt him.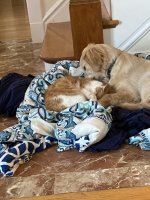 Here is Dodger, with his head in Brooklyn's mouth hoping he was right. You can sort of tell Brooklyn knows she's misbehaving. I told her to stop, or there would be no ice cream for desert later if she hurt the cat.